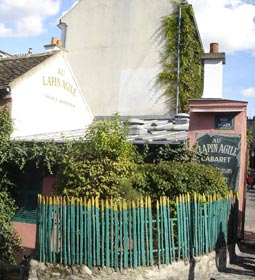 Bohemian life, memory lane
Let's climb the Butte Montmartre, one of the most picturesque parts of Paris.
This walk takes us to the celebrated Butte Montmartre, where the martyr St Denis was beheaded and, perhaps more famously, where artistic bohemian life flourished at the turn of the 20th century next to the "Bateau-Lavoir".
It will take you off the beaten tourist paths through the labyrinth which is Montmartre, its secret corners, its ancient cabarets and bars ("le Lapin Agile"), its grapevines. Starting from the trendy and fashionable Place des Abbesses and finally coming to its hilltop basilica Sacré-Coeur which from its vantage point, dominates Paris.