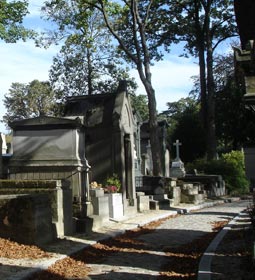 The origins and romanticism of Père-Lachaise
Situated in the east of Paris, this is the largest and most famous cemetery in Paris. Originally the site of a Jesuit community, it takes its name from the father confessor of King Louis XIV, le Père de La Chaise.
This open land was designated as a cemetery under Napoleon and became extremely fashionable during the 19th century, a period when grave adornments reached their zenith.
A visit to Père-Lachaise is at one and the same time a romantic walk along twisting cobbled lanes and a pilgrimage passed the great and famous who spent their last days in Paris.
The proposed visit includes a general tour of the cemetery but can be easily adapted to include specific requests.